Since our founding in 1975, MSI has grown to over $2.5 billion in annual revenues, and over 3,000 employees worldwide.
MSI is the leading nationwide distributor of flooring, countertop, wall tile, and hardscaping products in North America. Headquartered in Orange, California, MSI maintains over 40 state-of-the-art showrooms and distribution centers across the U.S. and Canada, with domestic manufacturing facilities for Q™ Premium Natural Quartz in Latta, South Carolina, and Premium LVT in Cartersville, Georgia.
Looking ahead, our goal is simple: To contribute to a world where anyone can afford to create a beautiful space to live, work, and play. In support of this goal, we have very ambitious expansion plans, including opening new branches across the U.S. and Canada, as well as continuing to introduce new and innovative products across all major product lines.
MAKING SUSTAINABLE IMPACT WITH LEAPFROGGING RESULTS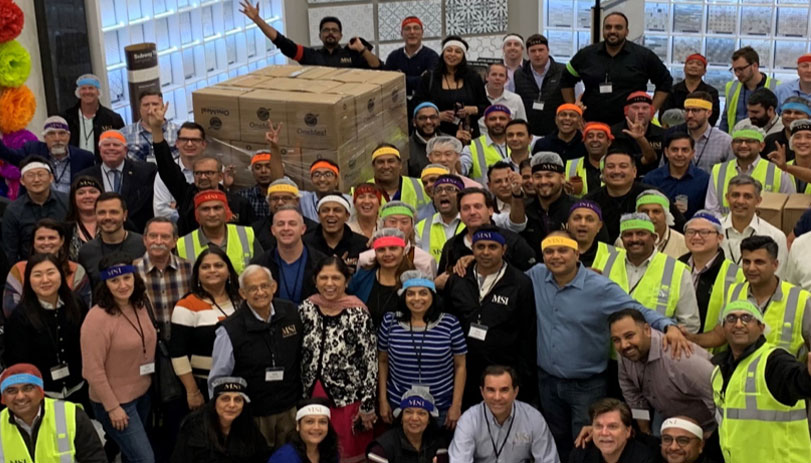 MSI's Charitable Trust aims to improve and strengthen the health, education, and wellness of communities we live and work in. We support causes such as early childhood education, healthcare and wellbeing, and employment generation.
We partner with organizations to make a fundamental shift in the quality of life of individuals with leapfrogging ideas.
LEARN MORE
OUR BUSINESS MODEL
MSI's business model is characterized by four core attributes: Assortment, Accessible, Attentive, and Affordable.

ASSORTMENT
MSI offers the greatest product variety in the marketplace. We import over 100,000 containers per year and manage hundreds of millions of sq.ft. in stock, including over 5,000 SKUs of luxury vinyl tile, porcelain & ceramic tile, quartz countertops, natural stone countertops and tile (granite, marble, travertine, slate, limestone, quartzite, and sandstone), prefabricated countertops, decorative mosaics, and sinks.

ACCESSIBLE
MSI sources the globe for its products, and through our 40+ distribution centers across the US and Canada, we deliver them when, where, and how our customers need them. Our state-of-the-art information system accurately forecasts customer demand and manages inventory levels to ensure that all products and services are provided on time.

ATTENTIVE
We are fully committed to the success of our partners throughout the value chain. Every day, we bring a service attitude to work, looking for new ways to improve upon our customer support. Our ongoing programs include complimentary training for salespeople, merchandising and display programs, marketing materials, and hands-on customer service.

AFFORDABLE
Our unique business model, strong partnerships and buying power allow us to provide high-quality reasonably priced products to the entire market. The result is value at every price point – even for people who previously thought they couldn't afford beautiful, trend forward surfaces.